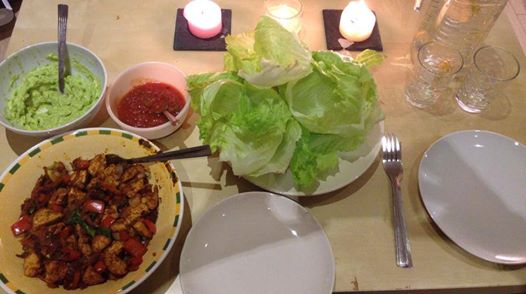 Are you always looking for ways to make your favourite dishes as clean as possible? The good news is fajita's are not off the menu. Here's how we tackled the Tex-Mex meal the #EatClean way!
What You Need:
2 Turkey Breasts
1 Small Onion
1 Red Pepper
2 Cloves Garlic
1 Carrot
1 Tblsn Garlic Powder
1 Tblspn Chilli Powder
1 Tblspn Coconut Oil
1 Head Ice-burg Lettuce
(For the salsa:)
1 Red Chilli
10 Cherry Tomatoes
1 Red Onion
Juice of 1 Lime
3 Tblspns Tomato Puree
(For The Guacumole:)
2 Avocados
Dice turkey breasts and fry in coconut oil. Add onion, fresh garlic, pepper, carrots.
Mix in garlic powder and chilli powder (to own personal taste.)
Reduce heat and allow cook throughout.
To make the salsa simply chop chilli, tomatoes and onion roughly and pop in food processor.
Add juice of 1 lime and tomato puree. (Add as much tomato puree as you desire to get the level of flavour you wish).
To make the guacamole blitz avocados in a food processor and hey presto!
Serve in separate bowls with iceberg lettuce leaves as the wraps.
Sit back and enjoy!
If you've liked this little recipe please share it with friends and maybe even coax them into giving our FITNESS and FOOD Facebook page a "LIKE".
See you there,
Leanne and Dave 🙂